Have you ever thought of the benefits of swimming caps or what types of caps exist, how do they affect your hair or how can you wear them?
This article includes answers to all of the above- mentioned questions.
At the beginning the main aim of the swimming cap was to reduce hydrodynamic drag of the swimmer.
It helped to increase the speed as the water passed faster through smooth surface than through the hair. This helped swimmers perform better when competing.
Afterwards, non-professionals also started to use swimming caps as a hygiene attribute and a way to protect hair from chlorine and a few other chemicals that are present in the majority of the swimming pools.
Our Recommended Swimming Caps

Good for recreational swimmer
Good for adult & youth sizes
Swim Elite 2-in-1 Swim Cap

Reversible - Wear It On Both Sides
Speedo Silicone Long Hair

Stretchable to cover ears

Multiple colors to choose from

Unfortunately, the swimming caps are not designed especially for keeping the water out of the hair!
Nowadays, in the majority of swimming pools it is required to have a swimming cap on when in the pool.
This way they prevent hair from falling in the pool and provide sanitary conditions.
Additionally, they can become a protection for your ears and a way to keep the heat. If you have very long hair (Don't miss this reviews of top and best swim caps for long hair), it will always disturb you when swimming – the cap will keep your hair away from your face and shoulders providing you ease of movements.
Types of Swim Caps
There are several different types of swimming caps. The main difference is the material. There are
Latex Caps
Rubber Caps
Silicone Caps
Neoprene Caps
Spandex and Lycra Caps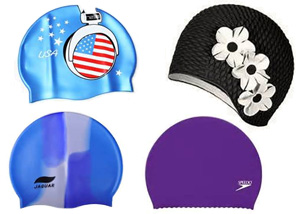 The most common material used for production of swimming caps is silicone – it is very durable compared to other materials, it does not rip of as easily as latex does.
Silicone caps are a bit thicker compared to latex or rubber, but at the same time stretch better as compared to rubber.
Rubber is made of latex, it is not as thin as latex, but it is very good solution for those who swim in cold waters.
Silicone caps do not pull your hair when putting the cap on or off, if you take proper care of your silicone cap it will serve you for years.
Lycra caps are more durable and softer, but they create some type of resistance in the water. It is not advisable to put on a Lycra cap when on competition.
Neoprene caps are considered as thermo caps and like the rubber caps are very effective in cold waters.
If you are on halfway to the store and do not know what cap to choose, you can make your choice based on the description provided above.
Which Swimming Caps Should You Buy?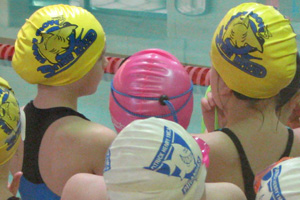 To make it short – get a rubber or neoprene cap if you are swimming in cold waters, silicone cap if you are a professional athlete or simply want to make your swimming process smooth.
Lycra cap if you want to get additional resistance in order to become more competitive later on during competitions or when you swim under the sun.
If you swim in water with average temperature, you do not plan to enter into a competition, but you are looking for a cap that will last forever than latex cap should be your choice.
Check out detail Reviews of swimming caps
You can get a swimming cap for as cheap as a few dollars and can find a cap that will cost you much more (depending on the style, producer, quality etc).
Majority of swimming caps are one size, so you can simply order one on the internet without worrying that it will not fit you.
Does Size Matter?
Adults and children aged 4+ should be comfortable with wearing a swimming cap. For children under 4, caps might create some inconvenience as the caps are fitting very snugly.
If you need a special cap, below are presented sizes that are designed for people who do not feel comfortable with the standard size caps:
Small – 20.5 to 21 (5/8 inches)
Medium – 22 to 22 (3/8 inches)
Large – 22.75 to 23 (1/8 inches)
To find out which of these sizes will fit you the best get a measuring tape, put it around your head (above the brow ridges) and measure it.
How to Put Swimming Cap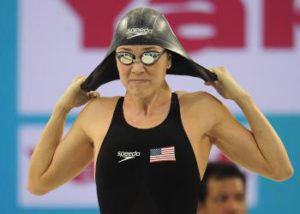 How many times have you tried to put on the swimming cap and it slipped of your hands and head?
There are several techniques which you can use in order to put on your cap without any harm and without spending too much time on it.
Here is a small hint on how to put on a swimming cap – hold your cap by the sides, make sure you are comfortable with it and bend your head down.
You need to start with forehead and pull it down from the back till the upper part of your neck.
Put a bun on the top your head if you have very long hair, another option is to make a horse tail, twist it and put it in the cap (as deep as you can) when you feel comfortable put it on your head.
Taking Care of Your Swimming Caps
When you are done swimming, take off your swimming cap under running water to prevent any damage that it could cause to your hair, rinse it with cold water, dry it and store it in the case.
Do not leave your swimming cap under the direct sunlight.
Avoid placing it next to sharp object or close to heating.
It should be stored in a place where there is average room temperature.
Take Care of your Hair while Swimming
Swimming can have some negative effect on your hair, mainly when the chlorine gets into your hair it creates dryness effect, however there is no proven evidence that the swimming caps recede the hairline.
You can minimize this risk by thoroughly washing your hair with soap, before entering the swimming pool.
If you are using low quality swimming cap it might pull off your hair when you take the cap off.
If you take off the cap inaccurately or extremely fast it can also become a cause of pulling off your hair along with the cap.
Here are more step-by-step tips about taking care of your hair and eyes.
List of Best Swim Caps to Buy in 2023
If you are still not sure which swim cap is best for you here is the list of best swim cap based on the review and rating from the real customers.
Speedo
1. Speedo Silicone Solid Swim Cap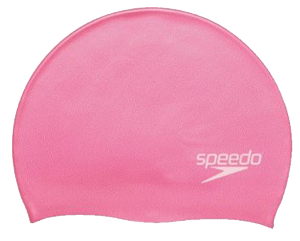 At a starting price of $5, this lightweight and durable swim cap is a true bargain. Built with silicon, available in multiple colors.
The Speedo swimming cap is just waiting to be put and go into the water without worrying about the hair snagging and tearing.
The cap is stretchable enough to fit more than double its original size (it's great for girls with long hair).
It's dome shape rounded fit with no wrinkles help it reducing drag while you swim.
The cap comes in one-size-fits-all, so you don't have to worry about different sizes it can fit most adults comfortably.
Swim Elite
2. Swim Elite Silicone Cap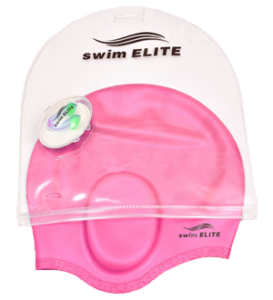 This silicone swimming cap from Elite is easy to put on and easy to take off without tearing your hair.
This is the best swim cap for long hair, you don't have to worry about your hair would get wet, just wear this and go under the water without worry.
Free nose clip comes with this swim cap, it's a super comfortable and really handy for the regular swimmers.
Also there are nice "ear pockets" that make some extra room for your ears and makes the cap much more comfortable, and not to mention you won't have to think about over-pressure or water getting into your ears while swimming.
Speedo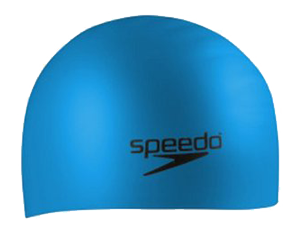 Speedo is a well-reputed brand which is popular for its swimming gears especially the silicone swim caps.
This is distinctively designed swim caps for women who have long hair and spends long time in water.
It's built with silicone, that allows the head to breathe for a more comfortable fit and can be stretched to almost over double its original size, available in several colors.
It's crafted with perfection for your pleasure and comfort.
TYR
4. TYR Lycra Swim Cap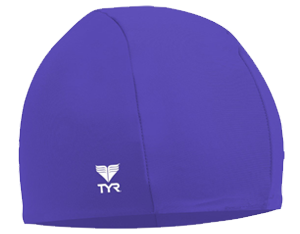 This is a good looking Lycra swim cap from TYR that reduces drag and keeps your hair out of the way while you swim. Unlike the other caps, Lycra swim caps are known to be very soft and will never grab or pull your hair and it's very comfortable to wear.
Note that, as Lycra is a fabric, caps made of up it allow water to flow through the material while swimming, so don't complain about the cap if your head get wet in the water.
This TYR swim cap is slightly large, the fabric is slightly heavier, and the sewing is more robust, making it a perfect blend of style and durability.
Finis
5. Finis Spandex Swim Cap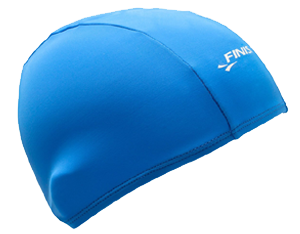 Spandex (similar or same as Lycra) material is way much better than rubber because it does not drag your hair while wearing the caps.
This One size fits most swimming cap is impressively comfortable – a right product at the reasonable price. Keep in mind it is spandex and it not 100% waterproof.
There are multiple colors for your individual liking.
Whether you ask a professional swimmer or recreational swimmer, they will tell you that how comfortable these caps are compare to rubber or silicon caps.