Top 10 Best Chlorine Removal Shampoo & Conditioner for Swimmers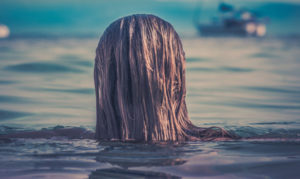 No matter if you are an avid or a beginner swimmer, your hair going to be ruin because of chlorinated swimming pool water, if you do not take precautions and take care of your hair from the day one.
There are many things you can do to avoid damaging your hair from chlorinated water, the obvious and funny answer would be – don't let your hair in water while swimming!
However I know it's impossible, isn't it?
The other option would be to use swimming cap that stop getting water inside your hair, but that is also near impossible.
First the List of Best Chlorine Removal Shampoo & Conditioners:
As far as my experience is there isn't a swimming cap that is 100% capable of keeping your hair dry while swimming. Please let me know if you know any 🙂
The best solution then is to use products that remove chlorine from your hair. One such product is a shampoo and the other one is conditioner.
Listed below are top rated chlorine removal shampoo & conditioner that you can use on a regular basis to protect your hair from getting dry, scrambled, fragile plus turning your hair green!
10 Best Swimmers Shampoo Reviews 2022
Ultra Swim
1. Ultraswim Shampoo & Conditioner for Swimmers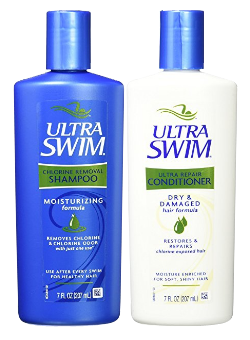 This is very effective and efficient dual-product from Ultraswim, its both hair repair shampoo and conditioner, its a perfect solution that offer best hair treatment for swimmers.
This anti chlorine shampoo is made to provide nourishment to your hair and also repair dried and damaged hair. It is a formulation that prevents damage caused by chlorine.
Having used this shampoo, I can say that the shampoo works moderately because it seems too watery for me. The conditioner works great but a better scent could have been better.
All i can say is its a perfect swimmers shampoo with a good price.
Malibu
2. Malibu Swimmers Shampoo & Conditioner Combo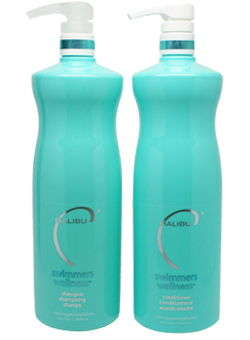 This is yet another hair treatment product from Malibu which is a combination of shampoo and hair conditioner. The manufacturer claims the combo leaves hair silky soft, manageable, full of shine and free of minerals.
Quite the best product from Malibu for me as it makes brilliant effect removing all chlorine and salt water after swimming.
It also prevents green coloration of hair due to copper contamination. It has the advantage of coming in two large and voluminous containers that ensure long time usage at least more than the normal hear treatment products.
Drawback really is the combo works badly for a blonde kid of my neighbor who has been my friend at swimming sessions.
Babo Botanicals
3. Babo Botanical's Swim & Sport Shampoo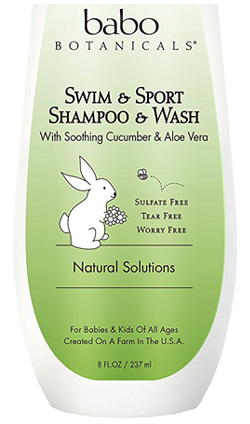 This is a product based on botanical and herb formulation. Manufacturers boast of its ability to hydrate and purify hair scalp and skin, moisturize and condition hair for incredible tenderness.
I found that the organic formulation of Aloe Vera and Cucumber had so much effect as it wipes all signs and smells of chlorine off me after long time swimming.
It also works great on my amateur swimming kids too. In fact it is specially designed for unique needs of babies and children's hair, scalp, and skin.
Choose between 8, 16 and 32 oz bottles. Its made with a certified organic Nutri-Soothe blend rich in vitamins, anti-oxidants, and anti-inflammatory making it a perfect choice for people looking for certified products.
Paul Mitchell
4. Paul Mitchell Swimmers Shampoo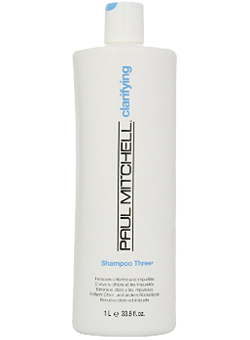 This is obviously and undoubtedly one of the very best hair treatment product for swimmers especially for avid swimmers.
Coming from Paul Mitchell that is known for quality product, the shampoo claims of being a great companion for swimmers and very effective in removing chlorine and any form of impurities gotten from every swimming session.
This product has been very amazing and efficient in performing the work of removing impurities on every swimmer including the blonde kids and adults.
It makes hair tender and freeze free and the size of the bottle is big enough to last lang.
TriSwim
5. TriSwim Shampoo – Best Shampoo to Remove Chlorine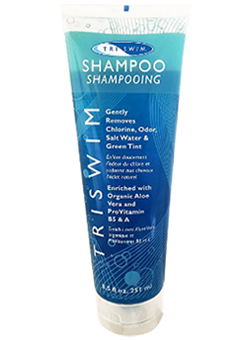 The Tri Swim Shampoo is said to moisturize with Aloe Vera and other vitamins good for your hair. TRISWIM is safe to use daily on permed hair and color treated hair.
They also boast of its ability and effectiveness at removing every chlorine, salt water and bromine as well as their odor from the swimmer after swimming.
For the time I used the TriSwim shampoo, it prevented the green coloration on my hair and with a nice scent but really scores low on other levels. TriSwim is endorsed by USA water polo and the gold winning Olympic team! Overall a good hair shampoo to try out.
Malibu
6. Malibu Swimmers Wellness Treatment Kit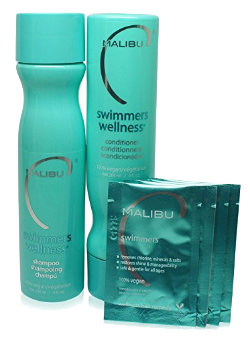 This is a hair treatment kit and product from Malibu. The kit contains both shampoo and conditioner specially designed for for swimmers.
The product is 100% vegan kit created especially for swimmers helps to preserver your hair color and make your hair shine and adorable both in and out of the pool.
I used this hair kit and I found out that it works great but might be cause damage to anyone with a chemically relaxed hair, so make sure not to use this product on chemically treated hair.
The shampoo effect is not really felt but it really prevent chlorine damage and offers good hair treatment for swimmers. If you go to the pool daily, It is safe to use it on daily basis.
AqyaGuard
7. AquaGuard Pre-Swim Hair Defense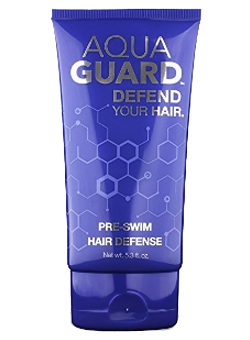 The Aquaguard pre-swim hair defense is quite innovative and creative product that can be described as hair defense. Its formulation offers better hair treatment than a shampoo.
The innovation of applying before a swimming session is quite amazing and its work greatly for me.
It really removes chlorine and other unwanted salt and helps to improve hair condition. The fragrance is pleasant and the results are obvious.
Drawback is that AquaGuard pre-swim hair defense is expensive because it has to be applied generously for efficient impact. Apart from this, it is very nice to have as a swimmer.
In fact the only time I go in swimming pool without a swim cap is when I apply this product to my hair !
Fairy Tales
8. Fairy Tales Lifeguard Clarifying Shampoo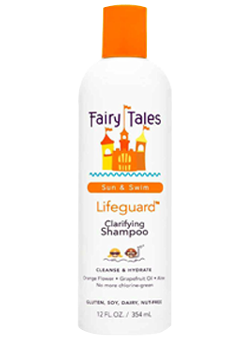 The Lifeguard clarifying shampoo is a very effective swimming companion for avid swimmers. The shampoo is derives its cleansing ability from extracts of Orange flower, grapefruit and lemon.
This product also contains beneficial vitamins and minerals needed for hair softness and tenderness.
Personally, this shampoo has been amazing for me and my family. This Shampoo has proof its worth by removing chlorine after every swimming session and also giving softness to hair with a very nice and exquisite scent to complement.
Till now, I have never found any demerit of this product and I hope it remains so. In a simple term this is a perfect and must have product for a regular swimmer.
Iom
9. Ion Swimmer's Leave-in Conditioner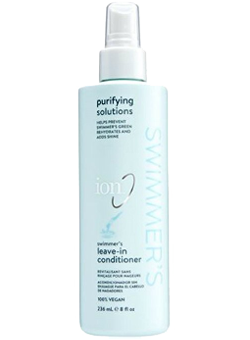 The Ion swimmer's Leave-in Conditioner is a nice product from Ion and according to the manufacturer, the conditioner restore strength and shine, detangles and helps manageability while also repair brittle hair.
Personally, I believe this conditioner has better offer to hair than just what a normal and regular swimmer wants in a shampoo or hair conditioner.
It helps give good tender and softness to hair while also avoiding dryness to pave way for good hair curling.
It works great on all even with blonde hair and already treated hair with a very attractive smell and scent. This is one of the best conditioner for swimmers.
Zealios
10. Zealios Swim Shampoo – Safe for Color Treated Hair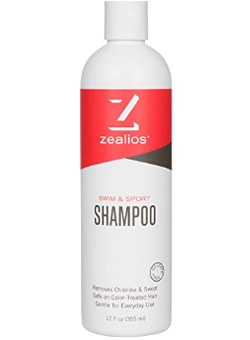 The Zealios Swim and sport shampoo is made to serve as a remedy for hair damage of swimmers caused by chlorine and other water impurities.
The Shampoo contains vitamin B which makes hair follicle stronger, apart from this it also have great scent and capable of withstanding long time in water.
The shampoo works great and beyond my expectation because it removes chlorine without causing dryness of hair. It leaves hair shinier and very smooth and most neighborhood swimmers gave a five star rating.
Zealios actually got this so well to have this very active shampoo with nice citrus smell and scent as an addition.