Top 10 Best Swim Jammers for Men in 2023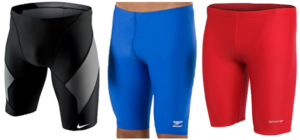 If you are a competitive swimmer you know the importance of swim jammers.
And for the rest of the beginners and wanna a pro swimmers, will have a hard time understanding it and its importance while swimming, especially in swimming competitions.
So before we review the Best Swim Jammers, first let's understand what a swimming jammer is?
First take a look at the top ten list:
Let's understand it from the internet's giant (wikipidia's) definition:
A jammer is a style of swimsuit worn by male swimmers, used mainly in competition to obtain speed advantages. They are generally made of nylon and lycra/spandex material, but may be made of polyester, and have a form fitting design to reduce water resistance.
As you can see from the above definition, in simple term a swim jammer is a swim suite for the men.
Now you know what a swimming Jammer is, let's dive into the top 10 best swim jammers reviews.
Speedo
1. Speedo Men's Jammer – Endurance + Polyester Tech Suit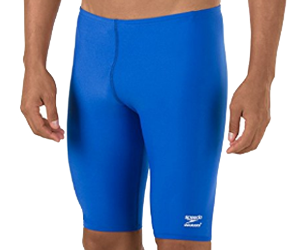 This is a complete and very functional and one of the best swim Jammers you can buy online.
It is well stitched to give a nice and outstanding body fit and also add to excitement of swimming.
This Speedo swim jammer is a great pair of suit that gets so well when swimming or running.
Its four-way stretching technology and chlorine resistance is an added advantage while the fabric is polyester.
It also possesses colorful designs which are fascinating and attractive.
Personally, I don't feel its weight as it is not heavy and it makes my swimming exciting. For me, this Speedo swim jammer is a good deal for swimmers.
2. Speedo Men's PowerFLEX Eco Solid Jammer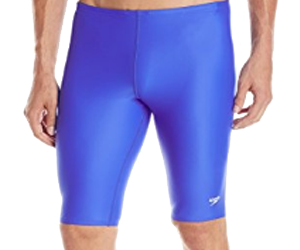 This is another great and nice product from Speedo. This solid jammer is made of recycled nylon and Lycra.
The Eco Solid Jammer is capable of an amazing and impressive 10X longer stretch and 4X compression. It is an adorable and fashionable swimsuit for swimmers.
The fitting is great thanks to the compression and stretching, due to its stretching it fit well but this is also becomes a drawbacks later, as it loosening after it get old.
Another issue I noticed is its inability to resist the effect of chlorine, it's not a big issue though but if you want a complete chlorine resistant then you should buy the above mentioned Speedo Endurance jammer.
3. TYR Men's Durafast Swim Jammer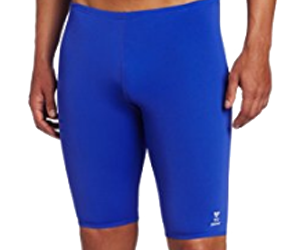 The TYR men's jammer is an ideal option for swimmers of my kind. I bought this suit and with the expectation of using it about 4-5 hours swimming time per week, it works really great.
Buying new tech suites over and over made me opt for this and it serves longer just as the Speedo Endurance.
The polyester and polyester PBT used as fabric is chlorine resistance and ability to wash with hand and cold water is nice.
The material never wears out easily and this is just pretty great. The TYR durafast jammer is an amazing choice for swimmers.
4. Speedo Men's Xtra Life Lycra Rapid Splice Jammer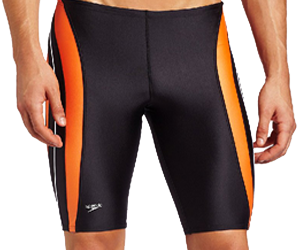 This is yet another tech suit from Speedo with little to be excited about. The manufacturer boasts of nice and great features like the Nylon fabric being very durable and also with lots of resistance to chlorine, bagging, sagging, lotion skin oil and others.
When I bought this Speedo tech suite, I was surprised it started showing signs of wearing in short time.
This really is a big piss off for a well-designed and fashionable jammer suit.
Could have been a great suit but for the very poor material and fabric, no one will enjoy it for long.
5. Ispeed Men's Fashion Swim Jammer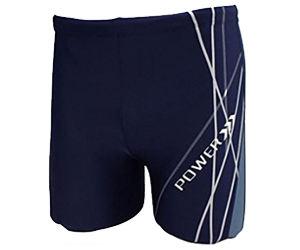 The Ispeed men's fashion Jammer is a great. The jammer is very sturdy, very well fit on body, durable and last long.
It is made of Nylon and Spandex known to support good quality.
The suit has very good thickness, impressive drawstring and nice and outstanding fitting.
With an added pocket for keys or other items, the Ispeed tech suite is quite nice.
Drawbacks include lack of durability and very poor with some swimming styles like breaststroke and flip turns. It also lacks resistance against chlorine. Not bad for the price.
6. EASEA Men's Rapid Swim Splice Quick Dry Jammer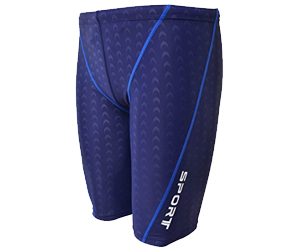 This EASEA Men's Rapid splice swimsuit is a great pair for nice and wonderful swimming experience.
With its very impressive features, it offers good fitting and quality fabric of Nylon and Spandex while the lining is of Polyester.
This jammer gives me lots of comfort while swimming in different styles and its water repellent ability comes to great and outstanding effect.
It also boasts of drying fast when washed.
Drawbacks is that it is not so durable and it is made with little sizing problem.
My friend got his EASEA jammer suit and found out he got it so tight even with the size of his pant. He had to order another of higher size for good fitting.
So be sure to check proper size before ordering this tech suit.
7. Kanu Surf Men's Competition Jammers Swim Suit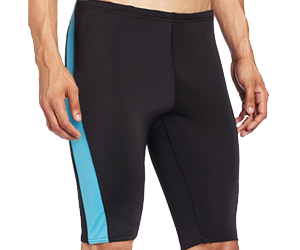 The Kanu Surf Men's Competition Jammer Swimsuit is good for it price.
It has good features that excite any swimmer. The tech suit is made of Polyester and Spandex and gives nice fitting.
The item comes in multiple colors and fashionable styles that add a great and exciting swimming experience.
The nice drawstrings holds up well while good stretching ability.
It is however not so durable and buyers can experience holes on the material and color fading off.
Really great for the price and averagely wonderful features that offers good product for a low price.
8. TYR Sport Men's Alliance Durafast Splice Tech Suite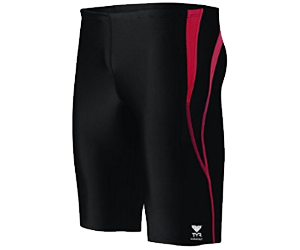 This is another amazing jammer from TYR. The TYR Sport Men's Alliance Durafast Splice Jammer suit is an ideal choice for every sportsman specially swimmers.
It is suitable for racing, cycling and swimming. The fabric is of Polyester and Polyester PBT that offers and provides nice design and quality.
It is easily fit on any person slim or fat and has some impressive features. Many complained of its and I also notice wearing at the rear on the one I got for my high school boy.
9. Nike Swim Jammer – NESS4039 Men's Victory Color Block Jammer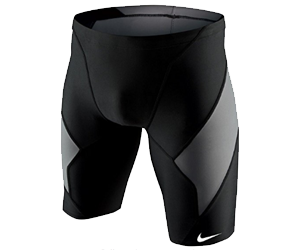 Nike swim jammer is an amazing and brilliant product from the clothing industry giant.
The Nike Swim jammer is quite unique as it offers an innovative solution to inner fittings and sturdiness.
It is made of Nylon and Spandex blend which ensures that it is resistance to chlorine.
The suit is designed and made to handle training and actual swimming.
With its great features including comfortable lining on the front, interior draw cord and very fashionable and stylish designs, everyone is guaranteed an amazing time under the waters.
Drawback noticed personally is that the Nike tech suit is not the most durable but your experience may be different then mine, isn't it? So it's a person to person case.
10. Sporti Solid Compression Jammer Swimsuit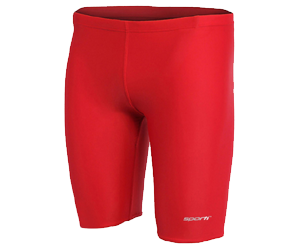 The Sporti solid compression swim jammer is an impressive tech suit for any swimmer because of its amazing quality.
This swim jammer is made from Nylon and Lycra while the lining is made from Nylon and Spandex fabric. It has good durability as it lasted me for 8 months before signs of wearing.
The swim jammer has a nice and beautiful variety of colors to choose from for an outstanding time under the waters.
It has good fitting and great sturdiness on me and my friends who love my recommendation.
I really love the suit with passion for its nice features and good and affordable price.
How to put Tech Suit Video
So many people who visited this page asked us to provide a top 10 list of swimwear for women with big breasts, so in order to fulfill our readers demand we have compiled a list of top 10 plus size swimsuits for women. Check it out and let us know your feedback.