Top 10 Best Swimming Goggles 2023 – Reviews
We have picked a list that contains the best swim goggles in the market right now, to make things easier for you, we have selected the top 10 goggles based on the below mentioned features, alongside their short reviews to help you have a better understanding of what you are about to buy.
So without further ado, let's take a look at the list of best swim goggles to buy in 2023.
#1 Aqua Sphere Kayenne Goggles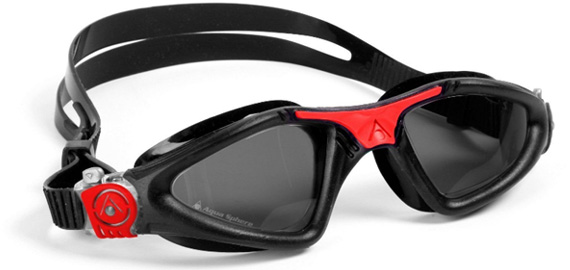 The Aqua Sphere Kayenne, made in Italy, this swim goggle has been in the market for quite some time and is taking people by surprise. Few best features about this goggle is the curved lens for peripheral vision, over-sized, 180-degree visibility.
The fitting is perfect for all people, even very well fit on people with big head – it has a nice quick fit buckle using which you can adjust it quickly and fast even after wearing it.
This comfortable adjustment makes this swim goggle breeze to use, whether you swimming in the open water or pool.
It's a well built, good looking and scratch resistant make Aqua Sphere Kayenne one of the best swimming goggle.
#2 Speedo Vanquisher 2.0 Mirrored Swim Goggle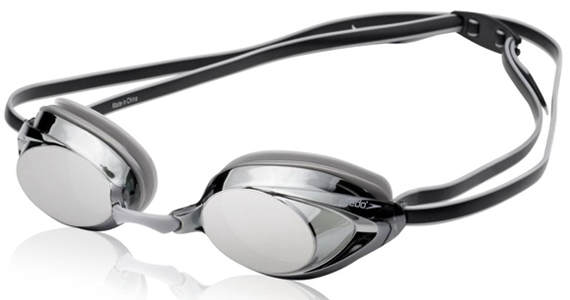 Speedo Vanquisher 2.0 goggle is one of the best selling swimming goggle right now!
It's a successor of classic fit vanquisher with improved features added to it such as UV protection, anti-fog lenses, mirrored lens coating helps to reduce glare and 100% PVC free. The goggle comes in multiple colors.
The cushioned silicone seal makes this goggle extremely comfortable, and if you are having concerns about customize fitting, then don't worry, the goggle comes with 3 improved interchangeable nose pieces for custom fitting.
The Vanquisher 2.0 didn't really have any major downsides, but there are some concern which we want to bring some light on, such as the goggles are too dark (mirrored), which means your vision will be much "smokier" if the pool isn't lit up well making it inappropriate for indoor swimming – where normally light is not sufficient.
#3 U-FIT Comfort Fit Swim Goggles – Comes With Case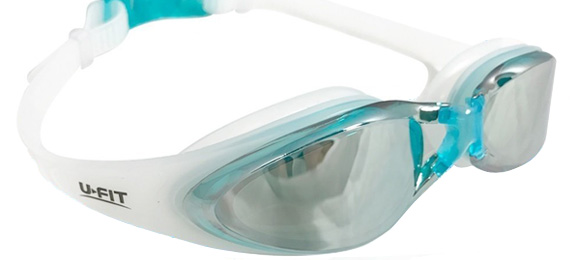 The U-Fit swimming goggle is amazing and competing well with the top brands like Speedo and Aqua Sphere.
The build quality top notch, and it works brilliantly for both men and women. The nose piece is nicely designed to fit all type of face shape and sizes, suitable for both – adults or kids.
The goggles have easily adjustable fasten clip in the back that keeps the goggle tide and won't let it slide.
Sturdy design, 100% U.V. protection, anti-shatter and a nice tint are few features that will grab your attention. Although the glass is mirror coated but it gives you clear view underwater.
The U-Fit swimming goggles come with fancy little case and a fantastic product replacement support!
#4 Incite Elites Pro Performance Adult Unisex Swimming Goggle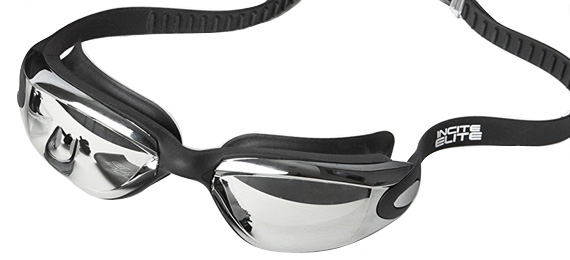 This swimming goggle from Incite Elites has been designed after studying top athletes. The goggle comes with a nice and free protective case, two pairs of ear plugs, and 1 nose clip.
The goggle is very comfortable due to the soft rubber – it is designed in a fashion that it actually gets a seal without a ton of suction on the eyes. The goggle is large enough to fit on normal shaped face or big face.
The down side of this swimming goggle is that it is not super clear underwater, although it's very clear outside water but a bit blurry if you swim longer.
We recommend storing goggle in the provided pouch after swimming, because it will scratch easily.
When you buy Incite Elite you will get a life time warranty!
#5 Aqua Sphere Kaiman Swim Goggle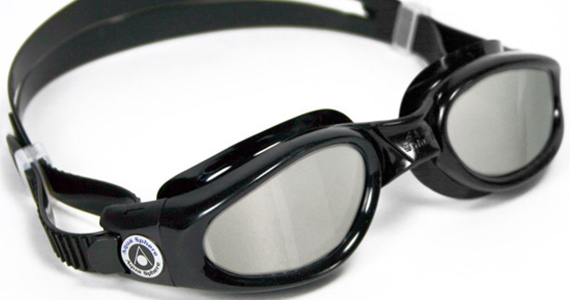 Aqua Sphere yet again, with a marvelous model Kaiman. This is great swimming goggle features all of the features found in Kayenne, with few exceptions including the price.
The body and frame is very flexible and have the best buckle adjust-ability which you won't find in other goggles – just push a little button on the side and pull the belt. It's so good.
You can even do it while you are wearing them. They are prone to a bit fogging, but in acceptable range, not that much that you can't see anything.
The goggle seal is extremely well and seem to keep most, if not all, water out of your easy.
#6 Aegend Light Blue/Clear Lens Swimming Goggles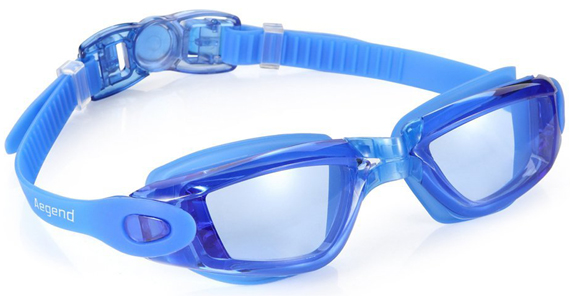 Aegend isn't a big brand but it offer an affordable, feature rich and one of the best swim goggle, due to its larger size it is  suitable for almost all people – kids, adults, and even tri-athletes.
The goggle is extremely comfortable due to the flexible silicon frame. Light blue and clear lens are suitable for indoor or outdoor swimming.
A free protection case, anti-fog and UV protection makes it's a perfect choice for your next swimming competition.
#7 VITCHELO Mirrored Adult Swimming Goggles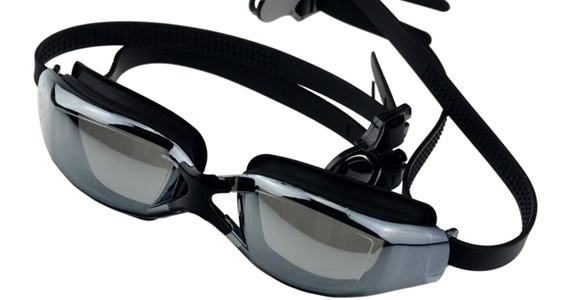 The Vitchelo swim goggles come in three attractive colors (silver, blue and red). If you prefer mirrored swimming goggles, then this might be an ideal choice for you.
Looking at its features, such as a free nose plug, life time guarantee and attractive tinted lens won't stop you buying this piece of charm.
Other features includes: the goggle is 100% PVC and latex free, a sturdy double band strap and nose piece for great fitting and it won't let goggle slip while swimming.
This swim goggles are suitable for adult men and women.
#8 Speedo Mirrored Swim Goggle – Best for Women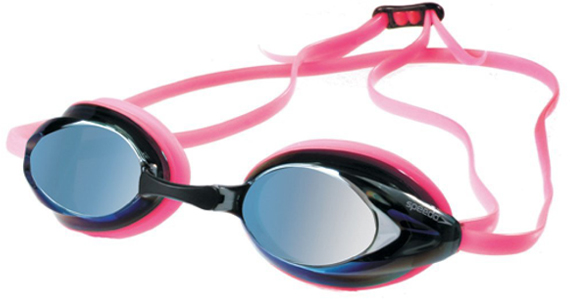 The Speedo brand continues to make its name in swimming products, this one is no exception. The Vanquisher mirrored swim goggle specially designed for women swimmers.
The lens are poly-carbonate with UV protection, anti-fog coating, mirrored coating, and hypoallergenic soft silicone seal which makes it a perfect choice for professional as well recreational swimmers.
Most of the swimming goggles which normally slip off from head slightly and water would get into it makes it irritating while swimming.
However the Vanquisher has soft silicone strap and cushioned protection that won't let water in, they never slip off and fit comfortably on your face.
It comes with three nose bridges for custom fitting. The beautiful color glasses are tinted to reduce glare from sun and reflection from the water which makes it a perfect swimming goggle to buy.
#9 Ispeed Mirror Pro Swim Goggle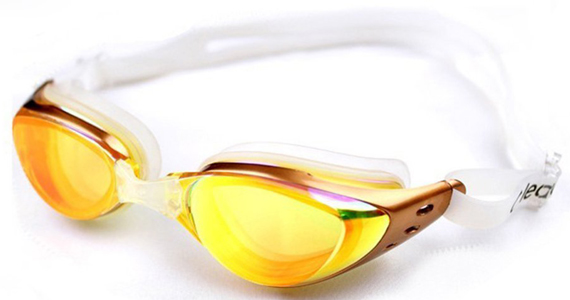 This mirrored Ispeed goggle is designed for professional swimmers and hobbyists.
The item is made up of silicone rubber strap and poly-carbonate lens which are soft and ergonomically designed to prevent any pressure on your eyes while you swim.
You will get three improved interchangeable nose pieces for perfect fit.
The Ispeedo swimming goggles are great keeping the water out and the reflective lens does not cause any glare or concerns, stylish and fairly comfortable swim goggles at an affordable price.
#10 Speedo Hydrospex Swim Goggle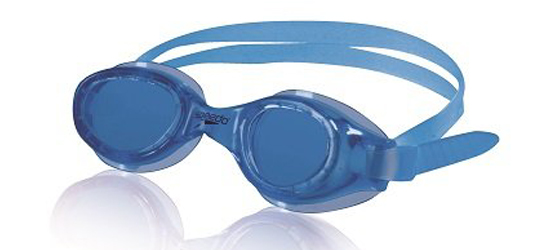 Yet another great goggle from Speedo – their products are really unmatched in performance.
The Speedo Hydrospex Swim Goggle has a Soft and comfortable TPR frame and an outer eye fit. The eyeglasses are of shatter resistant lexan lens.
This goggle is for adults only, check this variant for kids and/or small face. The dual strapping keeps the goggles in place when you dive into the water and while you swim. They are best goggles for recreational swimming.
Why you need Swim Goggles?
A swimming goggle can make your life much simpler by helping you protect your eyes in underwater and let you see clearly through the water, whether the light is good or bad.
No matter you are a professional or a casual swimmer, it's always better to think about your eye's safety.
A good pair of swim goggles won't cost you too much – it's just a matter of dollars and you have full proof safety of your eyes under water.
Features You Should Look Before Buying
Before you shell out some money on buying best swimming goggles, you should have knowledge about what features makes a goggle good apart from the brand name off course.
There are a stack of brands that produces swim goggles, such as Speedo and Aqua Sphere to name a few, but there are also few small and less known brands who producing good swimming goggles if not great.
Also there are different models from same brand, but each model offer different features then the other, so you have lot of option when it comes to buying the a swim goggle.
A good swimming goggle should be stand up to everyday wear and tear, it should be easy to use, doesn't fog fast, don't let water into your eyes and more important protect your eyes from the water.
Apart from above mentioned features, we talked to many swimmers about what's most important to them while choosing the best swim goggles, here is what we get from most of them:
Lens material: most of the lens are made of poly-carbonate
Strap material
Anti-fog
UV protection
Durability
Price
Types of Swimming Goggles
There are many types of swim goggles such as these:
Swedish
Gasket
Face Masks
Prescription
Tinted
We have covered more detail about things you should consider before buying swimming goggles here.