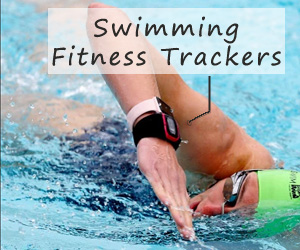 Technologies has come to an edge, it has impact on all aspects of our lives, whether it's personal life, business and sports. You will definitely going to see some kind of technological devices in our daily lives.
Fitness trackers have literally taken off in the last few years. People want to be one step ahead when it comes to their health, they are spending money on these gadgets that not only keep them aware of their health but also help them improve their performance in any sports they play.
Swimming is no exception – there are so many waterproof fitness trackers found in the market that are very helpful improving swim training. Market is full with these trackers and finding the best one is tedious task. To help you choose the best fitness tracker we have compiled this least which show some great smartwatch that are waterproof and have all the necessary features is found in a good fitness tracker.
Read our top ten picks below (in no particular order):
| | |
| --- | --- |
| | Garmin Vivofit Waterproof Fitness Tracker |
| | Fitbit Flex 2, Black (US Version) |
| | Garmin Vivoactive HR GPS Fitness Tracker |
| | Polar M400 Waterproof Fitness Tracker |
| | Misfit Flash Fitness Band |
| | The Garmin Vivoactive Smartwatch |
| | TomTom Spark GPS Fitness Watch |
| | Polar A360 Fitness Tracker |
| | Swimovate Poolmate Live Smartwatch |
| | Moov Now 2 Fitness Tracker for Swimming |
1. Garmin Vivofit Waterproof Fitness Tracker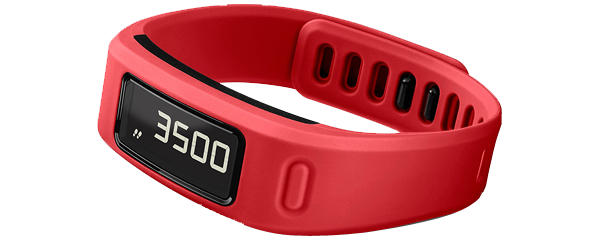 This fitness band will keep you active for most of your day. It displays a red band when you become inactive for even 15 minutes. It has a clear and easy to read display.  The band is wearable any time of the day and can be used to monitor sleep quality. It's waterproof up to 50 meters, so you can do swimming wearing Garmin Vivofit without any problem.
The battery life of the Vivofit is very long; it can go for almost one year without being charged. The Vivofit counts calories burnt in a single day. The vivofit comes in 3 different colors to choose from namely Black, Red, and Grey.
Features:
Waterproof up-to 50 meters, good for swimming, shower and rain
Pairs with heart rate monitor chest strap (chest strap included in bundle package)
Records calories burned throughout the day.
Red Inactivity reminder that pushes you to do some activity after 1 hour of inactivity
Long battery life stays on for more 1+ year without changing the battery
Works with most of the smart phones that supports Bluetooth Smart i.e. Android, Apple and Windows 10 Phone – data can be synced and you can check your daily activities on any device that supports Bluetooth.
Customize-able display – you set display to show time, date, calories burned, heart rate, distance, steps, goal steps for day, remaining steps to goal etc
If you are looking for the ultimate performance and don't want to spend the extra cash on a waterproof fitness tracker, then this is item is a perfect for you – you can buy it under $100.
2. Fitbit Flex 2 Fitness Wristband

Are you looking for a fitness tracker that automatically detects your workout? You do not have to look any further. This waterproof fitness tracker will record your activities and calories burned. The fitbit Flex 2 is waterproof device so you don't have to think about going in for swimming wearing it. It tracks your swimming automatically and you can see your exercise summary in the fitbit app, without worrying about making a splash!
The product goes for a flat rate of $59 (as of writing this review) and comes in 12 different colors. It is very thin and sleek and uses a LED color to denote different work out target levels. The watch is fitted with a vibration alarm which wakes you up without a scare.
Features:
Tracks your calories burned, steps, distance & active minutes
Comes in different sizes (small & large)
comes with a charging cord
Interchangeable accessories
Waterproof – suitable for tracking your swimming
So small and easily removable – can be used in bands, locket & bracelet
Get call and text notifications on your
Automatically tracker – LED lights progress that shows your daily goal
The fitbit flex 2 fitness tracker is also cost you almost around same price as the Garmin Vivofit but with some unique features added, such as call & text notification for example.
3. Garmin Vivoactive HR GPS Fitness Tracker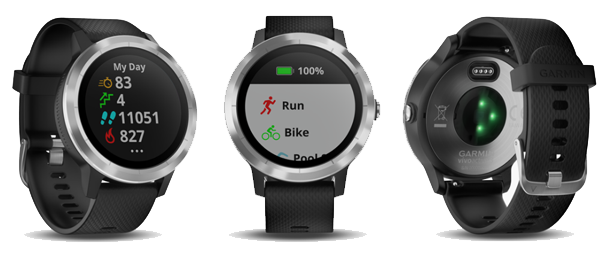 This is the only smart watch with an elevated heart rate technology. It is built in different sizes and the price shifts based on the size. It is available in only one color- black.
This smart watch is waterproof and can be used to monitor heart rate for different activities.  It is thin and sleek giving you an edge with style. This smart watch also summarizes urgent activities in your phones such as messages, calls or even emails. With it, you do not need to be behind schedule with your important activities.
The watch comes with a USB charger and cable, so you can connect it to your computer, sync with the tracker automatically and you can manage your apps on the watch from the desktop! Obviously it has Bluetooth that connects to your Android or iPhone too.
Features:
GPS Enabled fitness tracker
High-resolution color touch screen, sunlight-readable
Set notification from your mobile device to display when paired with a compatible Smartphone
Elevate heart rate technology measures heart rate at the wrist, without the need to wear a chest strap. Note though heart rate is not available while swimming.
Long battery life – 8 day battery life in watch mode
Water resistance up to 50 meters – good for swimming, showering etc
Tough this waterproof fitness tracker is cost more than the rest of the fitness trackers we reviewed here, however as saying goes "you get what you pay for", and this really is the devices that gives you features you want in a smartwatch, it is worth every penny you spend on it.
4. Polar M400 Waterproof Fitness Tracker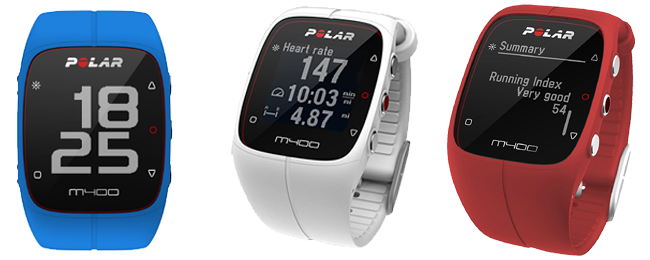 The Polar M400 tracker comes in two forms, with or without a heart rate monitor (HR monitor). This feature determines the price. It is also available in five beautiful colors (White, Blue, Pink, Red, and Black). The waterproof design makes it usable in all weather conditions.
The inbuilt GPS watch will not only track your pace and distance, but also your altitude. Although the GPS is a little fussy at times and takes some time to lock into the signal but when it got signals it works wonders. The Time Tracker has a fitness trainer which guides you to a targeted heart rate. Its advanced technology in heart rate monitoring puts it on top of the rest.
Features:
Compatible with H7 Heart Rate sensor to train at the right intensity with target heart rate zones
Stay social – Plan, sync and share your training using the Polar Flow app
customize sport profiles
Tracks steps, distance and calories burned
Standard micro-USB cable Rechargeable battery – up to 8 hours (both GPS and HR in use)
Waterproof up to 30 meters, suitable for swimming
5. Misfit Flash Fitness Band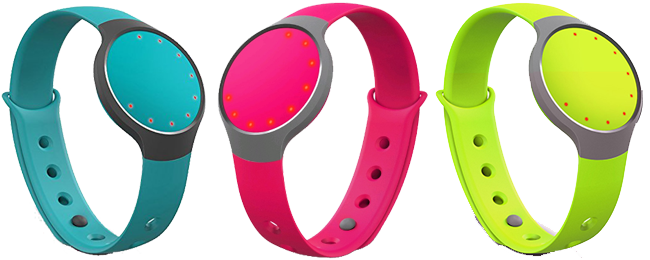 This smart watch will not only track your activity, but also your inactivity. You can have it on for all day long. It has a rechargeable battery that lasts up to 6 months. It connects to almost all devices around the house and gives timely updates.
The fitness sleep monitor is available in six different colors. This fitness smartwatch is the cheapest and most affordable fitness band on this review list, it cost around $20 as of writing this review. The Sporty design and colorful smartwatch looks so gorgeous and adorable.
Although the Misfit Flash is waterproof up to 30 meters few swimmers have had some issues, so be careful you do not go deep inside the pool wearing the Misfit flash. Avoid swimming at depth not supported by this device.
Features:
Sporty and awesome looking design
Is includes a clasp & sport band to be worn on your wrist, sleeve, waist, pocket, shirt, shoes as a key-chain or anywhere you can clip it!
Forgot about charging it – it runs on a replaceable coin cell battery that lasts for up-to 6 months
Misfit Flash syncs with reputed health apps like Runkeeper, MyFitnessPal, MapMyFitness, LoseIt! & IFTTT.
6. The Garmin Vivoactive Smartwatch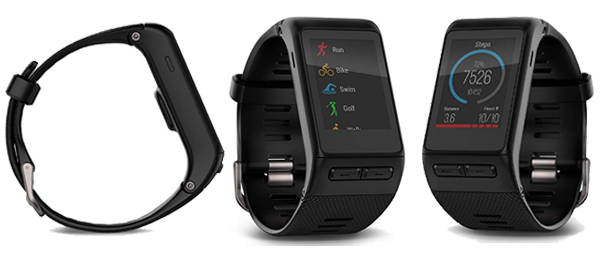 Are you interested in different types of workouts and would like a watch that tracks all these activities? You search ends here. The German Vivoactive watch is one that tracks different sporting activities – including swimming. It has an inbuilt app which can be set to monitor, walking, running, biking swimming and even golfing. You will not need to buy a different cardio watch for running and another for swimming.
The watch is waterproof meaning that it cannot be influenced by sweat or water during swimming.  The Garmin Vivoactive tracker has 2 versions, with or without heart rate monitor. The tracker offers a stylish sleek look, it is aesthetically pleasing with its complete black construction with colourful icons on the display, and it looks straight out of a sporting line up.
Features:
Bigger Display Size: 28.6 x 20.7 mm
Long Battery life – works through all your activities with up to 3 weeks in watch/activity tracking mode or up to 10 hours using GPS enabled
High resolution, color touch screen, sunlight-readable display
Stay alert – Pairs with your smart phone to receive notification for calls, SMS, emails etc
Built-in sports apps
Waterproof and suitable for swimming but you can't record heart rate data for the swim.
The Garmin Vivoactive is a product worth buying especially for someone who wants a real full function fitness smartwatch without spending a lot of money.
7. TomTom Spark GPS Fitness Watch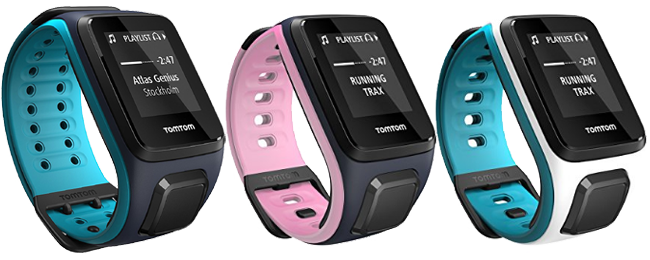 The next up on our list is one of the top tier waterproof fitness tracker, TomTom Spark, it is one of the most stylish looking, features rich fitness watch we have encountered. It has all the features a smartwatch should include, such as GPS, built-in Heart Rate monitor, Pedometer, water resistant to do swim workouts (40 meters), calories counter and a big differentiation is music!
This smartwatch is ideal for passionate fitness person looking to scrap all other devices. I am a minimalist & doesn't like to carry lot of stuff with me to track all my fitness. This device has solved my problem now with only this device, i can do all my stuff!
It comes fitted with a music storage space of up to 3GB. It has a heart rate monitor which communicates back to you in an audio form.
This smartwatch runs all day long without draining all your battery life; it runs up-to 5 hour with GPS + heart rate mode + music. This waterproof tracker records the distance you have covered, the speed and pace. You can also play songs while swimming or doing exercise via Bluetooth connected device.
With all that said, this might not be the number 1 pick for hardcore swimmers but it is more than enough to keep you happy with your swimming tracks with little bit of music.
8. Polar A360 Fitness Tracker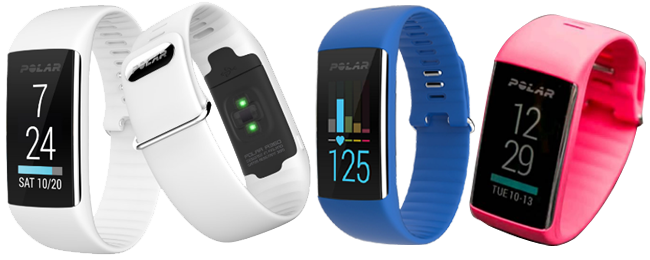 Getting a smart watch which can be your workout guide is quite difficult. Polar A360 will train you, monitor, and record your steps, heart rate and sleep. The watch is fitted with a bright touch screen with instant phone activity notification.
This waterproof fitness tracker is the first to have both a wrist-based heart rate monitor and Polar personalized training guidance. This is attractive looking device (not a bulky one), you can remove the tracker from the band easily.
It also has inactivity vibration alerts to help you be active all the time. It comes with interchangeable wristbands to eliminate the boredom of one color. This watch actually counts the calories burned and helps you set a new target and achieve it.
This cool gadget is not the cheapest one – it will make your pockets lighter by around $100-300.
Features:
Color touch screen
Interchangeable colorful wrist band
Waterproof up to 30 meters – you can wear it for swimming, while taking shower & in rain water.
Wrist based heart rate monitor
24/7 activity tracking
9. Swimovate Poolmate Live Smartwatch Review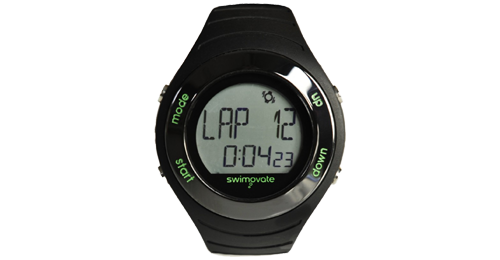 For swim lovers, this is an exclusive swimming smartwatch. It specifically tracks, swimming activities and records them in real time.  The Poolmate is obviously a waterproof fitness tracker, which is especially designed for swimmers. It can withstand water heights greater than 3 meters.  It records strokes in a lap, the number of laps and the mount of calories burnt.
The Swimovate Poolmate Live Lap counter has a long battery life of 2 years, after this, the battery can be replaced. There is no need of recharging the battery now and again. The smartwatch has 12 hour and 24 hours system, 2 time zones, and a vibrating alarm. It is a bit big size compare to the other fitness trackers.
If you are looking for a smartwatch that is basically designed for swimming this is the perfect at an affordable price which you can buy around $100.
Features:
Lap analysis via removable download clip
longest battery life – up to 2 years
1-year manufacturer's warranty
10. Moov Now 2 Fitness Tracker for Swimming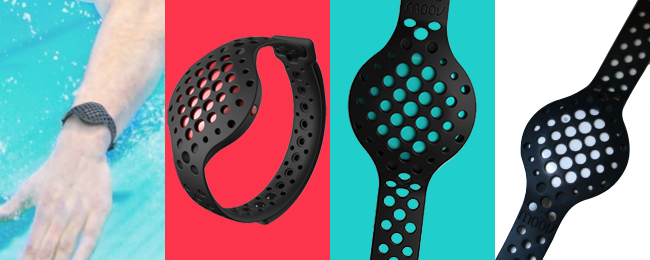 This smart watch is manufactured by Moov one of the best fitness accessories manufacturing company. Unlike the other trackers, the Moov Now doesn't have a screen! You might be wondering, how a tracker can be useful without a screen but this device without a screen still includes huge amount of power. It almost has all standard features of a waterproof fitness tracker!
This is an award winning swim tracker and a perfect device for swimmers, their slogan says it all "Become a Better Swimmer with Moov Now".  It is (obviously) waterproof and also breathable due to the pores. The design is beautiful with smooth curves. Its inbuilt trainer keeps motivating you to achieve your daily set goals. It coaches one in running, walking, swimming and even boxing.
The product has a special coaching program which explores the many options your body can use. The band is not the only wearable at the wrist but also on the ankle or both if you want to.
Moov Now is one of the cheapest (under $100) and most attractive trackers on the market.
Concluding Thoughts
Fitness trackers are the devices to keep you up-do date with your fitness, finding the perfect fitness tracker is never an easy task, especially for newbie. That's when top product reviews like this come into play. The list was carefully crafted, keeping in mind things like the needs of a customer and how much are they willing to spend on a (waterproof) fitness tracker. We hope the list will help you choose the best (waterproof) fitness trackers according to your requirement.
In case you think we missed on a good one, let us know.
Please follow and like us: