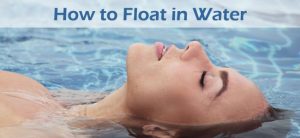 Are you beginner swimmer and looking for how to swim?
You have come to the right place, in this tutorial we will look at how to float in water.
Floating in water is a basic thing and every swimmer must learn to float in water before they can go in advance swimming part.
Floating in water is valuable not only for survival, but also for relaxation and improving your swimming skills.
Think and believe that you can float.
Never fear the water as your instructor is with you to provide the confidence to overcome your primary fears, help you relax in the water and remember, your environment is safe.
Before you know, it you will be floating around like a bunch of life savers. Like the fish, your body has flotation features.
Remember the basic principle of physics that says:
Things with density higher than water will sink in water.
By weight, your body is roughly two-thirds water and this means that your density is similar to that of water so you do not need much effort to float on top.
The composition of your body affects your natural ability to float. By the way guys, men's muscle density is greater than women. So, if you are young, a man, or a very athletic woman with good mechanics and technique, you be able to float easily.
Note that your lung has the capacity to stay on top of water. With higher lung capacity, floating is easier for two reasons.
First, you have larger air pockets in their chest and second, you tend to have more oxygen circulating throughout your body. The density of the oxygen is less in water, so the more oxygen you have in your body, the more buoyant you will be.
Your body has more inclination to float than to sink.
Here are four ways to help you float in water. After I explain the technique, you will feel confident that you can do it.
Learn relaxing technique
Learn to relax as if your entire body has no weight for this is the key to floating. As soon as you master this skill, you will be able to float. Go to the shallow part of the pool to practice until you have confidence in yourself for floating is a natural ability.
Get your face used to being in the water as this is another factor that can add to your fears. Breathe deeply to help your body relax and bring more oxygen into your body so you more buoyant.
While in a floating position, look at the sky and for some moments, while holding your breath, feel how essentially weightless you are atop the water. Exhale and repeat.
Improve your mechanics in floating
It is like lying down on your bed, slowly get on the water by allowing your shoulders and head to recline. Continue to breathe naturally while small hand movements will allow you to stay face up with your mouth and nose out of the water, and continue to breathe as it you are in your bed, relax back slowly into the water naturally.
If your legs have the tendency to sink, two choices: reach hands above the head or push yourself a bit from the bottom.
To provide more leverage so you can lift your legs above the surface, create a long lasting support over your waist by reaching reach arms above your head. At least, your legs are brought higher than the water.
Core strength technique
Your abdominal muscles must be engaged to lift your lower body toward the surface, utilizing your core strength. Your mind and body are powerfully linked. Imagine that you are pulling a string to the water surface of your belly and your feet, just leave your muscles to organize themselves and watch what happens!
Kick very gently and while, alternating leg movements help force them to the surface and keep your balanced. Small movements with your hands and feet will help keep you stabilized and close to the surface of the water.
Enjoy the weightlessness
Once you have relaxed and are floating on your back take a moment to enjoy the feeling of the water holding up and pressure is eased off joints and muscles. A pool noodle will help support your shoulders or knees for indefinite periods of floating. These should be used as your aides on how to float in water.
Different Types of Floating
Horizontal Survival Float
When the swimmer anticipates staying in the open water for a longer period to time, the horizontal survival float is used as this floating position is the most energy efficient.
Lie face down on the water's surface while you extend your arms to your sides and the elbows are bent so your forward hands are within a foot of your head. To offer wider surface area for greater buoyancy, spread your legs apart.
Vertical Survival Float
To execute the vertical survival float, with your head near the surface, stand in the water. Keeping your arms to your side and slightly in front of you, bend your elbows. To prevent movements, cross your feet at the ankles.
Since you will only sink a fewer inches beneath the water's surface, take a full complete breath of air.
Back Float
For short periods of rest, the back float is usually the type used by recreational swimmers. On the water surface as you are on a firm mattress, lie down with your back slightly arched.
Keep arms to your side while moving them in small circles back and forth to keep your upper body on the surface.
Treading Water
At all times, use the arms and legs to keep the head above water surface. To stay afloat move your hands beneath the water's surface following a figure-eight pattern and move your legs as if pedaling a bicycle.
The most energy is used in treading water so use it only when you need a better view of the surroundings.
You only need to practice what you learn – I congratulate all of you young people who are now equipped with the skill on how to float in water. An important skill for all ages, it will help you in facing your life's journey. Just float with confidence.
Here is a video tutorial showing How to Float in Water