What You Need to Know Before Buying Above Ground Pool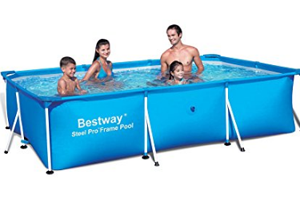 Human beings from the time of creation have always been searching for how to solve problems encountered in different spheres of life.
Taking a look at our weather, it is known to everyone that the summer time is associated with lots of heat from high temperature. This constitutes a discomfort to man and in quest to find solution and remedy to this problem, a pool was made.
If you are planning to buy a above ground pool, check this list of top 10 above ground pools.
The pool is made to serve the purpose of getting people refreshed and cool even in the comfort of their homes and apartments. This is normally called in or above ground pools.
It is usually made of different sizes and dimensions and with pump and filter that help to pump in water, inflammable rings, frame and other vital components. This pool set serve as a place of succor for both adults and kids in the summer time and season.
In this article, I will discuss and explain issues that are associated with above ground pools.
What to consider before buying an above ground pool
Size and Dimension
It is very important to consider and know which size of the above ground pool is good enough for you. If you want to be part of the pool fun every summer with your kids and pet, you should be considering a wide size pool which will give enough space for your fantasy.
Installation and setting up
Above ground pools are meant for your homes and therefore, you must consider the ease of setting up the pool. You have to buy the ones you can easily set up and install. This is important because summer time will pass on and you may need to remove the pool till the following summer before installing again.
Safety and Durability
Safety is key and despite the fact that lots of above ground pools are safe for adults and kids, you must still consider it before buying. Some pools have slippery base and this is a concern. The durability of the pool is very vital and you must be sure you are not buying a pool that will always cost you cash to fix leakages, replace components and others.
Price and Brand
Get the above ground pool of your choice at a good price. You must check every features to be sure it is value for money. The manufacturing brand is also very important. This gives you the warranty when issues arise as regards your pool. Go for the good and reputable brands of above ground pools.
Sizes and Shape of above ground pools
Above ground pools are made in several sizes and dimensions, and in different shapes too. For the shapes, we have Round, Oval and Rectangular shapes of above ground pools.
Sizes for round shapes include 12 feet to 33 feet around. For the Oval shape, we have 12 x 24, 15 x 30, 18 x 33, 18 x 40, 21 x 41 sizes. For the rectangular shapes of above ground pools, 9 x 18, 9 x 19, 9 x 41, 12 x 21, 12 X 22, 12 x 24, 15 x 25 dimensions. 
The best place to install the above ground pool in your house
When looking or determining the best position or place to install the above ground pool in your house, there are some factors to consider. These factors include:
Soil and ground topography
The place you choose to install your above ground pool must be a place with leveled ground, not sloppy. It should also be a place with stable soil. This is so because the best support for the pool is the ground and therefore it must not be perfect for the pool.
Setbacks and Drainage
For some houses and homes, there restrictions of how close you can build to the property line. Check your local building department to be sure of this. Also you must consider drainage as above ground pools contain lots of water which must be properly drained without causing tension around the pool. Look for a place with no restriction and with good access to drainage.
Maintenance and Safety
It is always good to site your above ground pool in a location that you can easily see it so as to guarantee safety. Most people may think the backyard is cool with trees as shade but trees are threat to your maintenance because leaves drop on the pool and the roots can cause ground and soil instability.
Taking Care of the above ground pool
There are several ways to take care of an above ground pool. Such ways include;
Removing the dirt in the filter. These can be done for different types of filters such as cartridge filters, sand filters and so on.
Do a weekly check for the pool PH. Make good adjustment when necessary.
Shock the above ground pool regularly to maintain crystal clean water that is healthy.
You may need to apply chlorine if it is required.
Hope this article will help you choose the best above ground pools for upcoming hot summer.