Aqua Sphere Vista Junior Swim Goggle Review
Aqua Sphere is slowing getting traction when it comes to producing quality products for swimmers, especially swimming goggles.
One of its best product is swim goggles for kids i.e. Vista Junior.
When your kid is going to a swimming pool, it is very important to get for him/ her best goggles in order to protect his/her eyes from water (mostly the water contains sufficient amount of chlorine, which can be a cause of eye irritation or redness, in case eyes are not protected by swimming goggles).
When you buy Vista Junior you will get a pack of 2. The goggle have a comfortable and leak resistant skirt.
Each goggle has a very nice design and interesting color combination – clear lime frame along with blue lens and pink/ white frame with blue lens (it also has other color variations).
Salient Features of Vista Junior Swim Goggles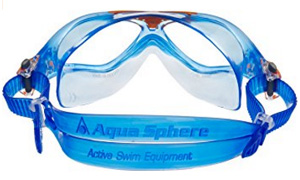 The stylish design makes the goggles attractive even for those kids who do not like wearing them at all.
The unique design will help differentiate your goggles among hundreds of others in the pool.
The goggles have four-point expanded vision and buckles that can fit quickly by one touch. They offer 100% protection from ultraviolet A (UVA) and ultraviolet B (UVB).
Aqua sphere offers junior goggles that are scratch–resistant (the lenses of goggles) and have anti-fog lenses. Unless many other goggles they do not fog up no matter where and how long you swim.
These special goggles provide expanded visibility and are suitable for children under the age of 8. They are perfectly fit for kids aged 3-6.
They have great adjust-ability on the straps, thus providing the best solution to sealing around the eyes, additionally, on the back of the head the goggles have very comfortable bands.
They keep the water away from the eyes of your kids, as they fit perfectly on the kid's face.
The kids can easily put the goggles themselves, the goggles are designed in a way to be easily adjustable even by a kid.
The kids normally hesitate while going into the swimming pool because as they go inside they can't see anything clearly thus they afraid, wearing this goggles they can clearly see everything thus they enjoy under water and stay more underwater.
Taking care of Vista Junior Swim Goggles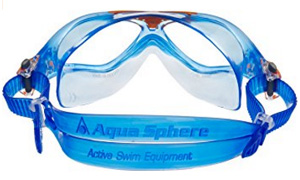 When your kids come back from the pool, make sure to wash the goggles with fresh water and let them dry in the open air.
After they dry, store them in a special case (you need to purchase it separately) to protect and ensure long lifetime.
Do not leave them under the sun for long time; do not store them if still wet.
Avoid putting them in the same box with sharp objects that might damage the lenses or the strap.
This special junior swim goggles combine all the best technologies used by Aqua sphere.
They provide comfort to your kid and the best protection for their eyes.
Your kids will love the great design with fun colors and you will love the fact that your kid's eyes are 100% protected from irritation.
If you don't want to buy 2 pack you can buy this single piece.